For Men and Women
LASER THERAPY CAPS
Regrow your Hair
with Clinically Proven,
FDA-Cleared Technology
Get results within 7 months or we'll send you a refund
For Men and Women
Laser Therapy Easy &
Natural Hair Growth in the
Comfort of Your Home!
Our revolutionary laser caps utilize 148 or 272 medical grade laser
diodes to stimulate dormant hair follicles & regrow full voluminous
hair with only 30 minutes of use every other day.
KIIERR
Laser Caps For Hair Growth
148 Pro Laser Cap | Affordable Power
Starting at $59/mo with
272 Premier Laser Cap | Maximum Strength
Starting at $80/mo with
Fast & Free Shiping
Easy Returns
Secure Checkout
Trusted by
50,000+
People
   4.95 / 5
"The confidence-restoring solution for men and women, overcoming hair loss with advanced, FDA cleared technology."
ABOUT
Kiierr laser Cap
Kiierr Laser Caps are meant for men and women–anyone suffering from androgenetic alopecia (pattern baldness). The cap is designed specifically to be unisex: it looks just as good on a woman as it does on a man. As soon as you start noticing balding, a receding hairline, or thinning hair, it is time to take control of your hair growth!
Mike and Jolene are the husband and wife team who founded Kiierr.
Scroll down to learn more about their story.
Kiierr
Why Use Kiierr Laser Cap?
Treats thinning and balding hair
Promotes healthier, thicker hair follicles
Safe and effective for treating hair loss
Revitalizes damaged /frail hair
Easy, portable and discreet use
FDA cleared with no reported side effects
Real People, Real Results
Susan G – After 3 Dermotologists.. Kiierr Worked For Me.
"I went to 3 dermatologists, all with different answers (even a scalp biopsy). Their answers didn't make sense. I saw your advertisement and due to the fact I had 7 months to try it out, I bought it. It took patience….months to begin to see progress."
Susan G.
/ Happy Kiierr Customer
Mark G. Late 30's. Amazing results in 6 months!
"After years of experimenting with several products (which almost always left me with a long price tag & short term results.) I decided to invest in the Kiierr Laser Cap: 22 Premier Model;not only is the battery life incredible."
Mark G.
/ Happy Kiierr Customer
We're Serious About Facts.
Our caps use up to 272 medical grade laser diodes.
The wavelength is 650nm
Our total output for the 272 is 1360 MW (each diode is 5mW)
01 What is it?
A Kiierr laser cap is an FDA-cleared wearable device that uses low-level laser therapy to stimulate hair follicles, promoting hair growth and combating hair loss. It's a non-invasive solution for improving hair quality and thickness at home.
02 Why does it Exist?
The Kiierr laser cap exists to offer a convenient and non-invasive solution for hair loss by stimulating hair follicles and promoting regrowth using low-level laser therapy.
03 How does it benefit my Life?
The Kiierr laser cap benefits you by promoting hair regrowth, offering convenience, being non-invasive, FDA-cleared, and potentially boosting confidence. It's easy to use and cost-effective compared to other treatments.
04 Why is this the best hair growth option on the market?
The Kiierr laser cap is popular in the hair loss market due to its FDA-cleared technology, convenience, 100% natural non-invasive nature (compared to cheaper options with potentially harmful ingredients), positive user reviews, suitability for both men and women, red light therapy technology, and potential long-term cost savings.
05 How soon can I get it if I order right Now.?
We ship all orders out by 4p.m. MST and offer FREE 2-Day shipping.
Use it forever which is like 10 cents per use vs expensive doctor office
we've disigned
Kiierr to be your best laser therapy option
What's Included With Your Kiierr Laser Cap
148 or 272 Diode Laser Helmet – Fits Most Heads, Up To 23.5 Circumference (fits in any standard ball cap)
Plain Black Ball Cap (wear your laser cap anywhere)
Stretch Fit Headband (secures helmet for comfort)
Wall Charger Power Plug
USB Cord
Portable Power Pack
User Manual & FAQ's Guide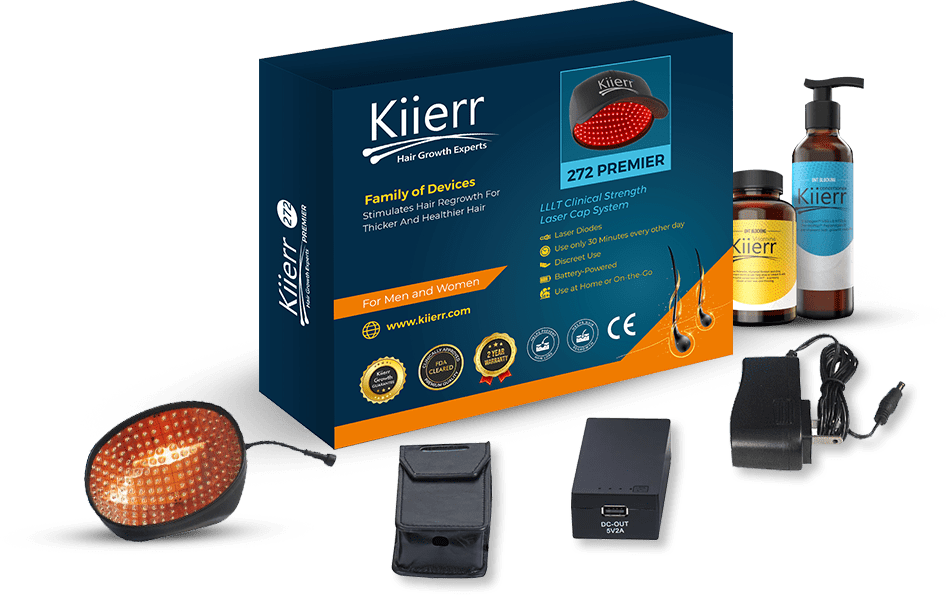 01 Which cap is the best for me?
We have 3 cap options: 148Pro, 272Premier and 272Premier-MD. The main difference is the amount of laser diodes, 148 vs 272. We recommend the 148Pro for those who are just noticing hair loss/thinning or want to prevent it. The 272Premier is recommended for those who want to see more significant results & noticeable regrowth. The MD cap is an upgraded version of the 272. It has many additional features including an upgraded battery, faster pulsing rate (which would help you see quicker results), enhanced laser diode panel, no reminder beeps and more! The MD cap comes in two sizes: standard and Elite. The Elite has all of the upgrade features but is larger & has more scalp coverage on the sides/back.
02 Will laser therapy work for my specific hair loss situation?
This is an answer that will vary. Basically as long as the follicles are still active, it can work. When they ask how to know if the follicles are active I tell them: To know if your hair follicles are still active, you would take a look at the scalp. If you see any hairs on your scalp—no matter how sparse, thin, short or fuzzy—your hair follicles are still alive. When your hair follicles have died, the skin on the scalp takes on a smooth, shiny appearance. 
Website Idea
Maybe we go through our reviews & pick out all the photo ones that reference why they were having hair loss. Then make a page dedicated to who it works for & link that on the home & product pages. We should also make a scrollable before/after section on the home page for results. We only have 1 on the home page. Also add on product page the different types of hair loss. 
03 How does a laser cap work & how long until I see results?
The hair follicle converts the red light into energy that stimulates your scalp's blood circulation and increases your hair's nutrient intake, resulting in healthier hair growth and the renewed functionality of hair follicles. Results vary depending on the degree of hair loss when you begin. The majority of users, after using the cap as directed, typically report visible changes in 4-7 months.
04 Can I get a discount? What is the best price you can offer?
We're currently running some of the best pricing you'll find all year. Feel free to take advantage before it ends!
05 I'm having issues ordering on your website, can you just place the order for me?
Yes! Please call us at 801-834-4970 and we'll be happy to place your order over the phone.
06 What is the difference between the MD and 272?
The MD cap is an upgraded version of the 272. It has additional features including an upgraded battery, faster pulsing rate (which would help you see quicker results), enhanced laser diode panel and no reminder beeps. It is also made with more durable and quality components. The MD cap comes in two sizes: standard size and elite. The elite has all of the upgrade features but is larger & has more scalp coverage on the sides/back.
07 Do I need to use supplements? What do you reccomend?
The DHT blocking shampoo, conditioner, vitamins and other supplemental products will assist in quicker and more noticeable results. It is important that your scalp has everything it needs for optimal hair health.
08 How does your guarantee work? What is your return policy?
We have a 7 month growth guarantee! You would use the cap for a full 7 months & if you don't see results, you can return it (you just need to register your device in the first 45 days with a before picture to be eligible). See the full policy here.
09 Does it matter the age? Does it help gray hair? Is it safe to use on color treated hair? Does it matter the texture or length of your hair?
Results vary depending on the degree of hair loss when you begin, rather than age. The majority of users, after using the cap as directed, typically report visible changes in 4-7 months.
LLLT (low level light therapy) is a great option for those who have chemically treated hair. The cap can help to provide longer lasting color with less fading and oxidation and will help repair damage normally caused by chemical services.
Laser therapy can be used on all types, textures and lengths of hair. The laser diode will penetrate through the hair follicles to target the scalp and increase blood low.
As we get older, the pigment cells in our hair follicles gradually die. When there are fewer pigment cells in a hair follicle, that strand of hair will no longer contain as much melanin and will become more transparent (gray, silver or white) as it grows. Consistent use of a laser cap will increase blood supply to the scalp which helps in cellular restoration to reverse or slow graying.
10 What size head does the cap fit?
Our standard caps fit up to 23.5" in circumference which would be a US 7 hat size. The MD Elite cap fits up to 24.5" which would be a US 7 1/2 hat size
THE KIIERR STORY
Jolene & Mike
Founders
Mike and Jolene Anderson are the founders of Kiierr.
Jolene was experiencing post pregnancy hair loss and wanted a safe, effective, and natural way to regrow and strengthen her hair. Together Mike and Jolene researched various hair growth products and found that they were either ineffective, difficult on the body, or incredibly expensive. They discovered that LLLT was an effective treatment for hair loss but couldn't make the time to go to the doctors office to use their device. This is when they decided to create Kiierr. Using the same medical grade diodes, Kiierr is able to provide FDA Cleared LLLT services for a fraction of the cost and at the convenience of your own home.
Expert Testimonial
Idaho dermatology physician assistant, Amy McKinlay, discusses her success with the Kiierr 272-laser diode laser cap. The Kiierr laser cap and its low level laser therapy technology has significantly helped improve the hair growth on her scalp. Amy currently works for Idaho Skin Institute and has over 13 years of experience in the dermatology field. To learn more about Kiierr hair growth caps
we are actively engaged in
Clinical Studies and Getting new hair growth Technology Patents to further help our Amazing Customers
At Kiierr, we place utmost importance on addressing our customers' hair loss concerns, which is why we dedicate substantial efforts to develop innovative new product patents, test novel ideas, ensuring effective and reliable solutions for their needs.