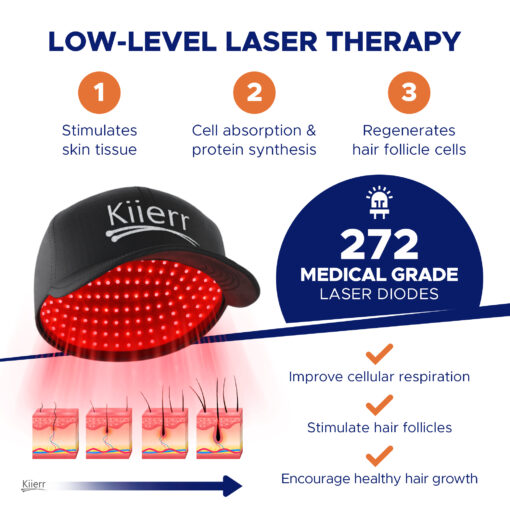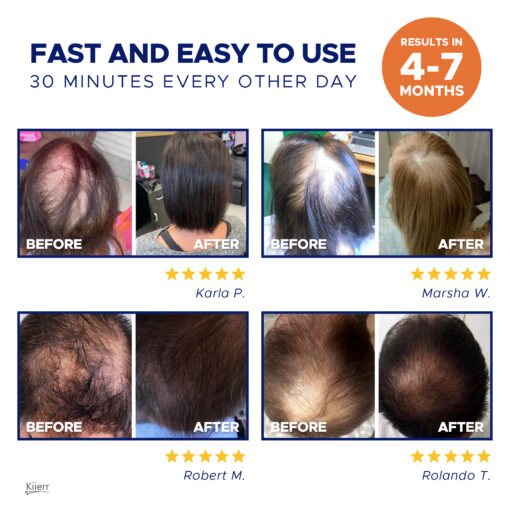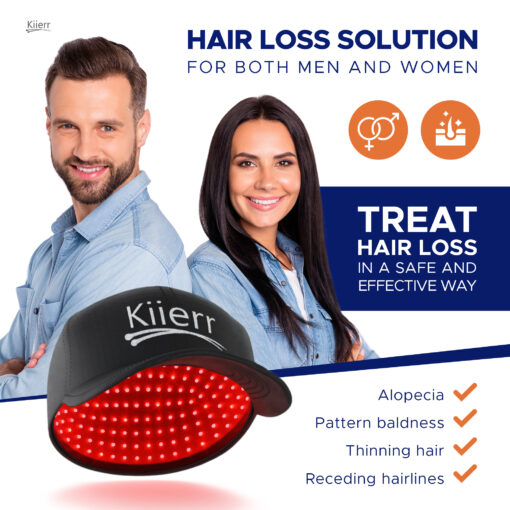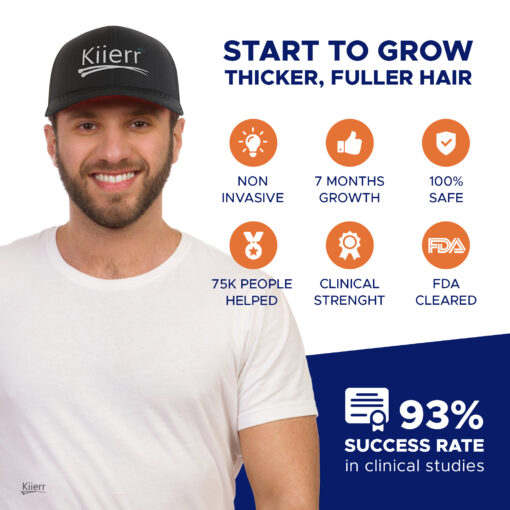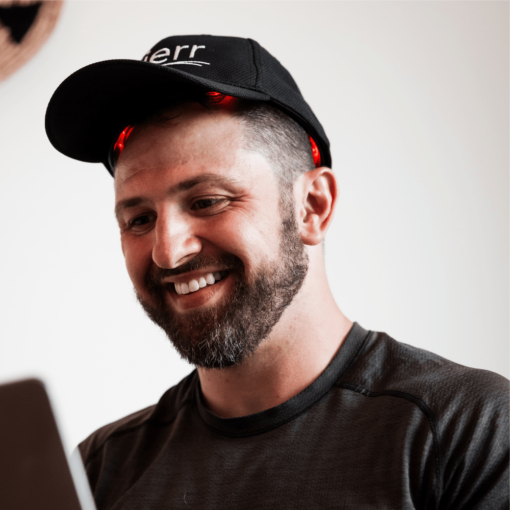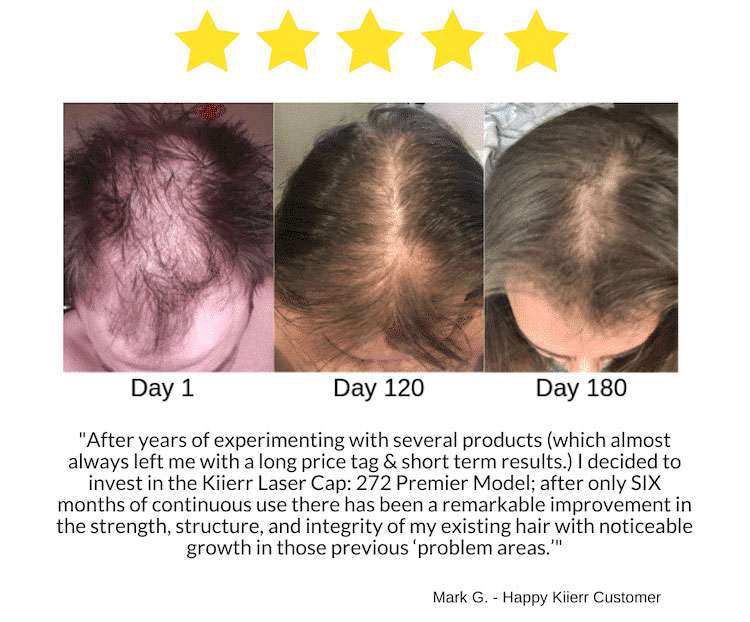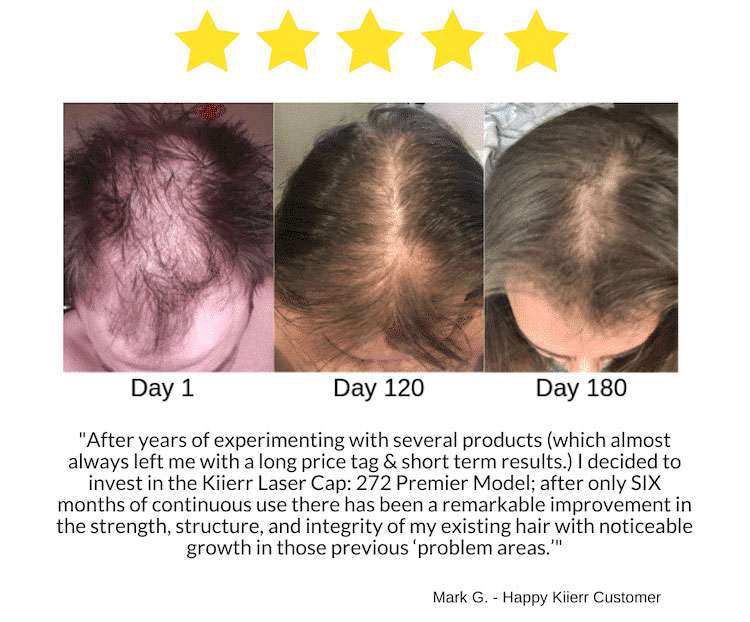 Kiierr Laser Cap Hair Growth System
-

Order placed

Order dispatches

Delivered!
*7-Month Money Back Growth Guarantee: See improved hair growth after 7 months of use or your money back.
See Return Policy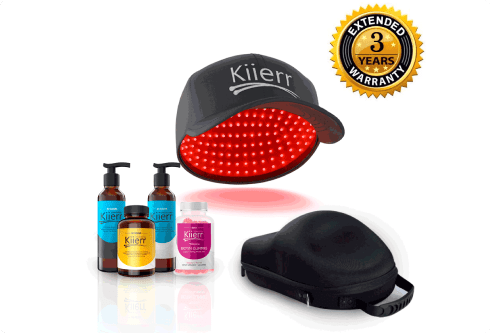 Add the Complete System:
The 272 MD Elite Laser Cap provides 25% More Scalp Coverage than any other cap on the market!
272 Medical Grade Laser Diodes
30 Minute Auto-Timed Sessions
Upgraded Safety Features
Portable Upgraded Battery Pack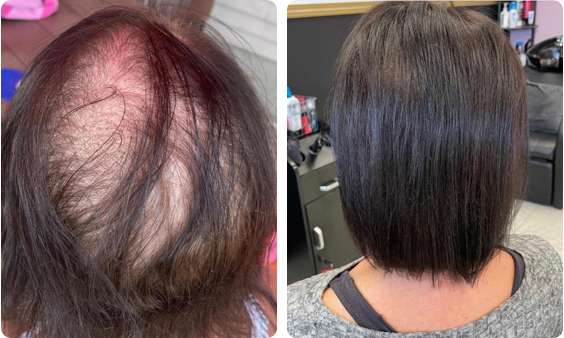 "I started the cap treatment approximately the end of July 2021 and have been using it as directed. The after pictures were taken in March of this year. I've always had thin hair in the crown but 3 months after having Covid my hair started coming out in handfuls. The Kiierr cap was what helped along with the shampoo/conditioner and other supplements such as biotin."
Karla Porter
/ Happy Kiierr Customer
Mark Shares His Kiierr Laser Cap Success Story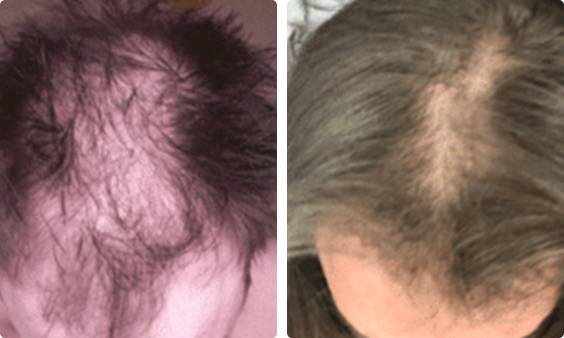 "After years of experimenting with several products (which almost always left me with a long price tag & short term results.) I decided to invest in the Kiierr Laser Cap: 22 Premier Model;not only is the battery life incredible"
Mark G.
/ Happy Kiierr Customer
What's Included With Your Kiierr Laser Cap
148 or 272 Diode Laser Helmet – Fits Most Heads, Up To 23.5 Circumference (fits in any standard ball cap)
Plain Black Ball Cap (wear your laser cap anywhere)
Stretch Fit Headband (secures helmet for comfort)
Wall Charger Power Plug
USB Cord
Portable Power Pack
User Manual & FAQ's Guide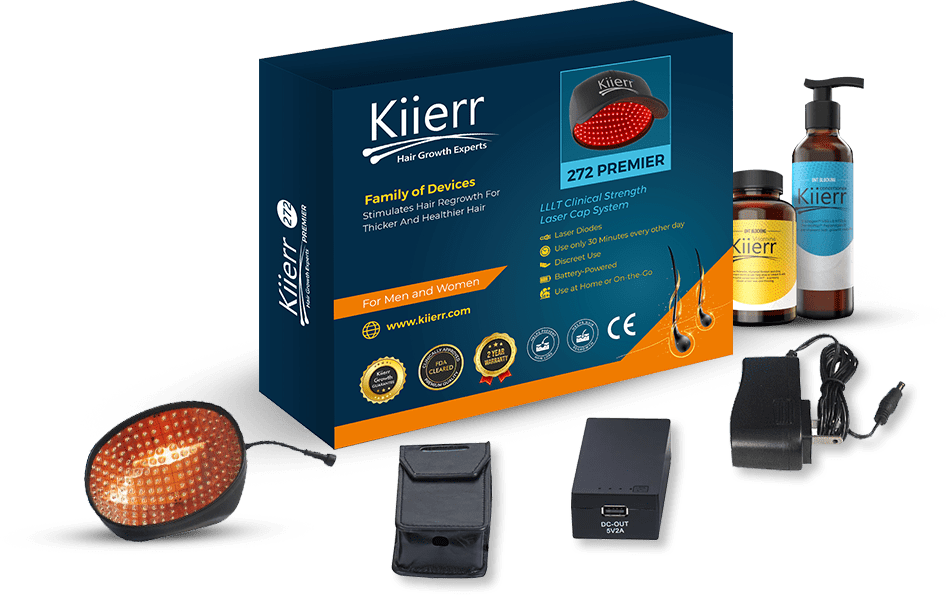 Effective and Advanced Hair Regrowth Treatment
Kiierr Laser Caps use only premium laser diodes (650nm wavelength) for maximum hair growth (no LED'S). In addition, you get
a 2 yr product warranty so you can feel confident your purchase is protected. If you experience any issues,
we'll send you a new unit absolutely free!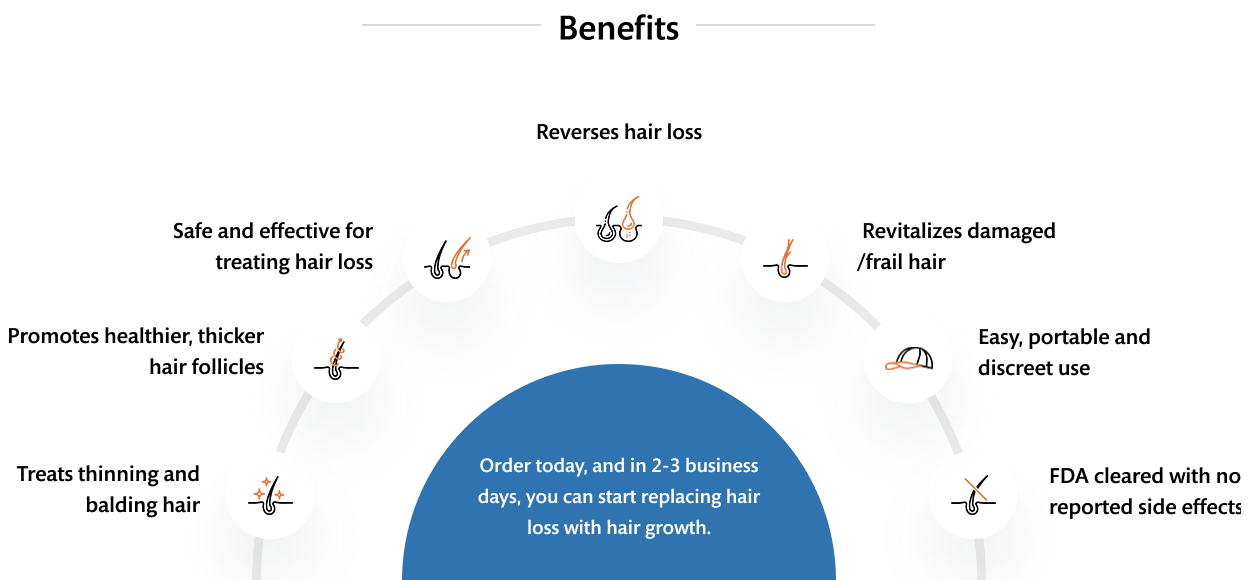 Idaho Dermatology Physician Assistant Discusses Success With Kiierr Laser Cap
Idaho dermatology physician assistant, Amy McKinlay, discusses her success with the Kiierr 272-laser diode laser cap. The Kiierr laser cap and its low level laser therapy technology has significantly helped
improve the hair growth on her scalp. Amy currently works for Idaho Skin Institute and has over 13 years of experience in the dermatology field. To learn more about Kiierr hair growth caps
Clinically Proven to Safely Grow Hair in just 30 Minutes
The Kiierr Laser Cap uses scientifically proven LLLT technology to regenerate your hair follicles giving them increased energy & blood flow. In just 30 minutes every other day you'll see those frail follicles transform into thick & healthy hair once again!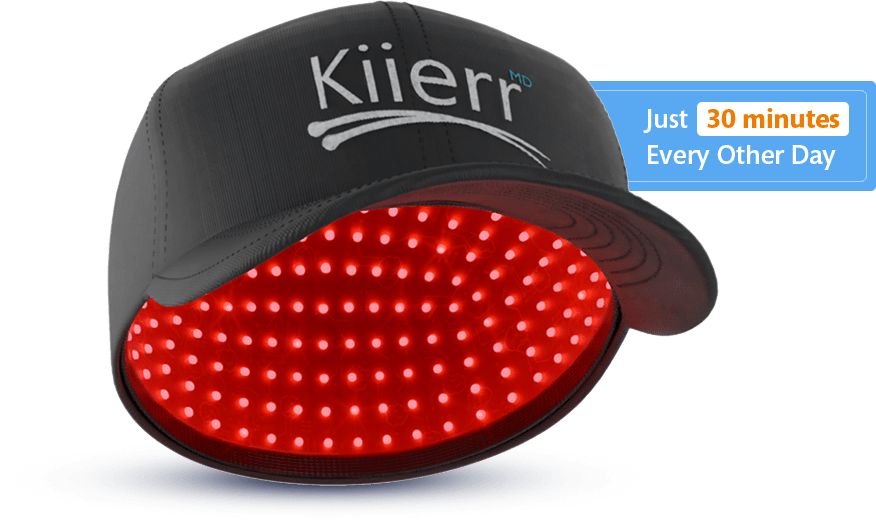 How To Use
Place the device comfortably on your head and push the on button to begin your session. The laser cap will automatically turn off when finished.


There's no need for technical knowledge or any kind of struggle. The Kiierr272Premier Laser Cap requires no manual effort. Simply put it on your head, relax, and enjoy your day while the laser treatment does its work.


And did we mention it's safe? Clinical studies have confirmed that this Low-Level Light Therapy (LLLT) is safe, and has been used in clinics for
decades with wonderful results–but now you can use it from the comfort of your own home, car, or wherever you are!
Kiierr Laser Cap is an Affordable Hair Regrowth Option
Until recently, this incredible technology was available only through expensive machines and procedures
performed by physicians. Now, with Kiierr you can utilize LLLT to grow hair in your own home for a more
comfortable, time-efficient and more affordable hair loss treatment.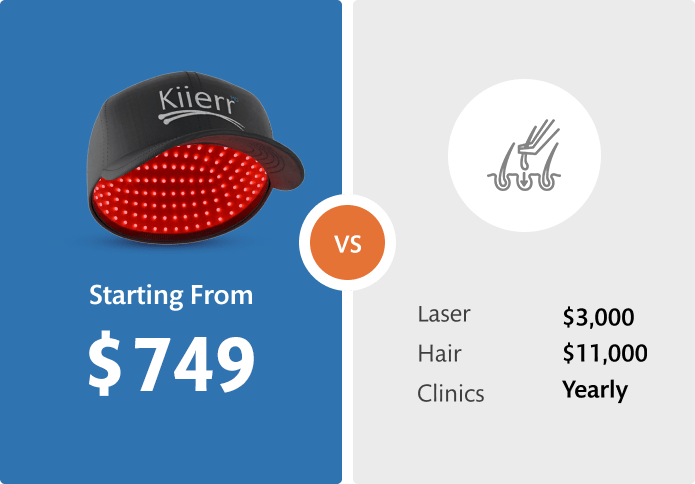 Treatment Process Timeline
Stop Hair Loss in It's Tracks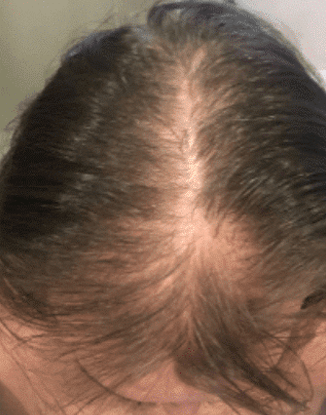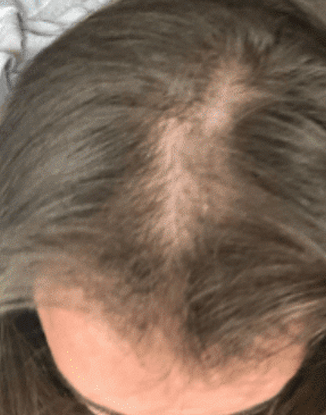 Enjoy Thicker, Fuller Hair!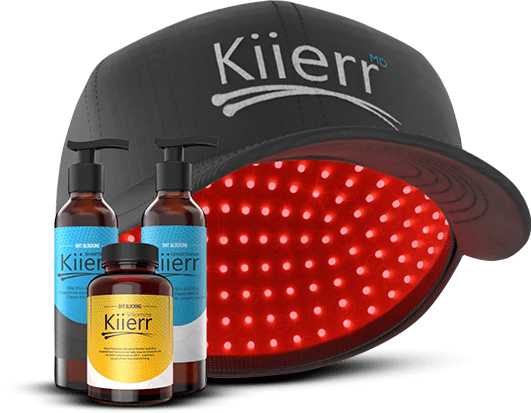 Who is The Kiierr Laser Cap For?
The Kiierr Laser Cap is meant for men and women–anyone suffering from androgenetic alopecia (pattern baldness). The cap is designed specifically to be unisex: it looks just as good on a woman as it does on a man. And you don't need to wait until your hair problem has gotten out of control! As soon as you start noticing receding, thinning, and balding, now is the time to start using the cap.
But what if your problem is bad enough that you think you need an in-clinic laser treatment? The Kiierr system is one of the most powerful and comprehensive hair growth systems developed, and has an equivalent output that's as good, or better, than in-clinic lasers!
The Kiierr laser cap is designed for people who are suffering from early-to-medium symptoms of hair loss. A Kiierr cap is not designed to treat severe cases (someone who is completely bald). So now is the time to get on top of your hair care and solve the problem before it gets worse!
The initial LLLT treatment period is three to four sessions a week, and there's no clinical proof that increased treatments will make the hair grow faster or better. However, after the initial treatment period for the Kiierr laser cap (four to twelve months) you should continue to use the cap once or twice a week to maintain hair quality. (It's not recommended to use more than once a day.)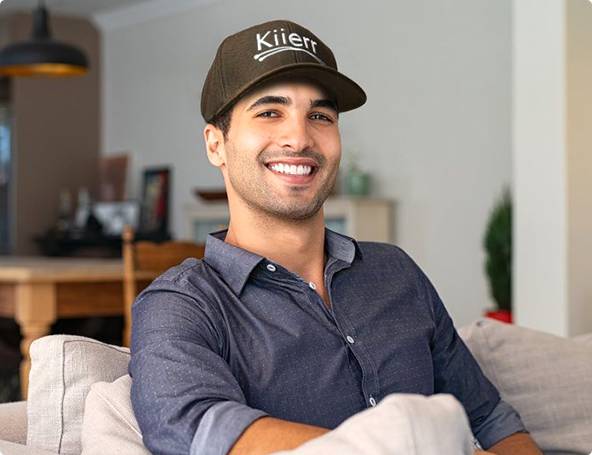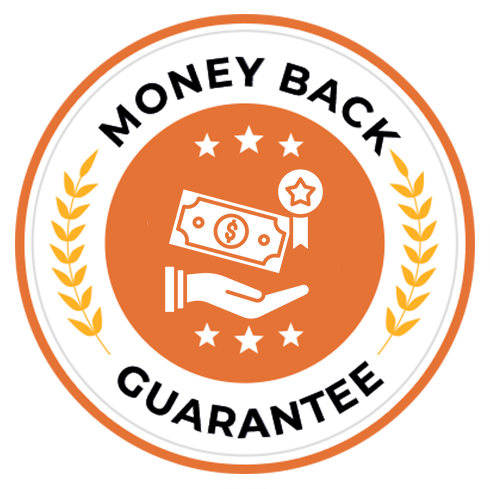 Money Back Growth Gaurantee
We stand behind the effectiveness of our products 100%. Try any of our laser caps (148 or 272) or complete hair growth system today risk free. If you do not see
results after 7 months, you can return your products for a full refund. We pride
ourselves on being #1 in customer service with zero hassle returns and extremely helpful customer service staff to help you along the way.